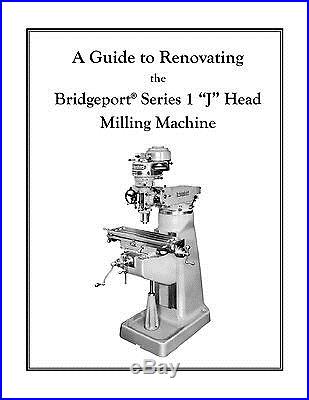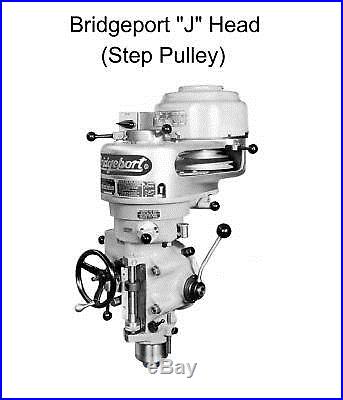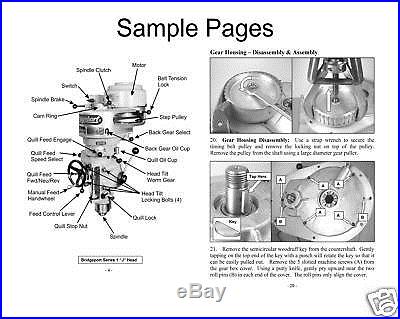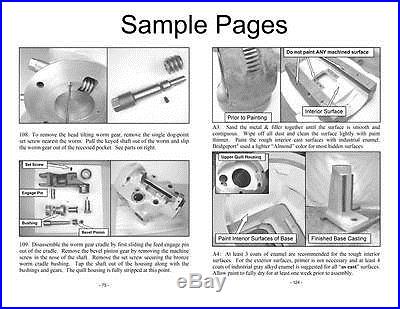 "a guide to renovating the bridgeport series 1 "j" head milling machine". Published in the usa by ilion industrial services, llc. If you are planning on refurbishing your bridgeport series 1 "j" head mill (step pulley model) or if you are in the market for a good used bridgeport, then this new manual by ilion industrial services is a great place to start.
" a guide to renovating the bridgeport series 1 "j" head milling machine ". Our 125 page soft cover shop manual, is fully illustrated with almost 350 b&w photographs and diagrams, plus step-by-step instructions for disassembling, cleaning, reassembling and adjusting all of the critical components of the step pulley j-head milling machine. Bridgeport never produced a full blown maintenance manual for their mills so this is the closest you will come to a step-by-step guide.
Please take a look at the sample pages in the photos above for an example of what to expect. The photos can be enlarged by clicking the button beneath the photos.
If you are interested in the bridgeport 2j variable speed model, please check our other listings for that manual. The typeface of the manual is printed two points larger than normal for those of us who prefer to work at the bench without the use of our reading glasses. The instructions are simple and easy to follow… No prior machinery renovation experience is required. Though the bridgeport is an industrial machine, it is well suited for the home garage shop or small business and the task of finding one, getting it home and getting it back into operating condition is not as expensive and daunting as you may think.
Let us show you how. The subjects covered in the manual.
Introduction and overview of the different bridgeport models and features. Tips on evaluating, purchasing and moving a used bridgeport. Chapters on disassembly & assembly of the motor, belt housing, gear housing and quill assembly.
Chapters on disassembly & assembly of the ram, table, saddle, knee and base. Proper installation of angular contact bearings. (spindle, bull gear and pulley).
Adjustment procedures for backlash in the table feeds. Hints and tips for stripping and refinishing mills. Improvements to the table lubrication system and quill lock. List of materials and resources available for mill refurbishing. Parts sources and references for professional services which may be outside the scope of the manual. Completely illustrated process for 1hp motor bearing replacement. Lubrication instructions and lubricant references. Parts references and mill serial number guides. If you have any questions, please don't hesitate to contact me.
I will be happy to answer any questions. Industrial services, llc is neither affiliated with bridgeport machines, inc nor hardinge inc and makes no claims as such. Any information or product offered through this manual is done so in good faith in order to assist vintage machinery owners and is not sanctioned by hardinge inc. As oem information, parts or products.
The item "A Guide to Renovating the Bridgeport Series 1 J Head Milling Machine" is in sale since Wednesday, March 19, 2014. This item is in the category "Business & Industrial\Manufacturing & Metalworking\Metalworking Tooling\Equipment Specific Tooling\Milling". The seller is "stevewb" and is located in Durham, North Carolina. This item can be shipped worldwide.