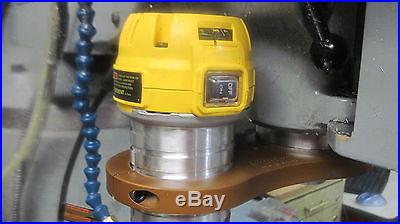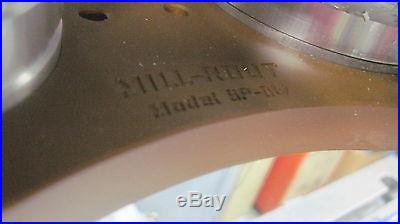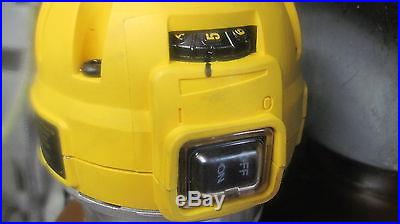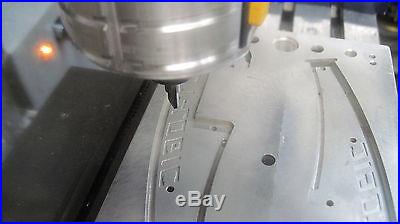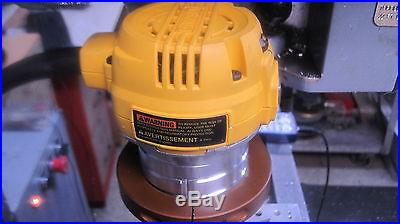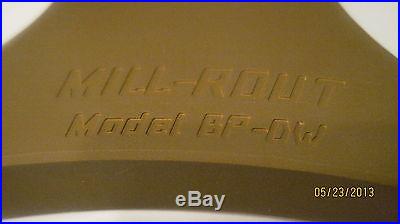 Instantly turn your cnc mill into a router machine and an engraving machine for $1000's less compared to purchasing a cnc router or engraving machine. The mill-rout bracket will fit any machine with a quill that is the same size as the bridgeport milling machines (3 – 3/8). This is a mill-rout bracket and dewalt dnp611 router motor 1-1/4 hp (same motor used in the dewalt dwp611 router). The bracket attaches a bridgeport series 1 cnc mill quill (or clone brand) and a dewalt dwp611 router. The dewalt dwp611 variable speed motor can be used on your cnc quill to engrave, rout and mill on brass, aluminum, steel, plastic or wood. The mill-rout bracket is very rugged which reduces vibration to a minimum. The variable speed motor allows you to accommodate different feeds and speeds with your cnc. The router and bracket are new. The router motor comes new in the box, with collet wrench and manual. The router motor also comes with a 1/4″ collet and will accept (3/16″ & 1/8 collets not included).
The dewalt router motor runs very quiet and smooth. Here are the dewalt router motor specifications.
Quickly change bits with convenient 12 position spindle lock. Durable all metal can construction with ball bearings. Variable speed means optimized bit speed and performance with minimized burning. Power is never in short supply with this 1-1/4 hp max torque. Speeds: variable (16,000 – 27,000 rpm). The dnp611 includes:(8′ power cord included and attached). One (1) dewalt compact router motor. Note: the spindle speed of the bridgeport motor is too slow to mill with small end mills and engraving bits with higher feed rates. But with the mill-rout bracket and the dewalt motor i have cut pockets in an aluminum mold for plastic injection with a. 031″ end a 1/8″ collet turning at 25,000 rpm and a feed rate of 30/min. The pockets were for lettering in the mold and were. I have also used this system to engrave brass cribbage boards with a 90 deg.
Engraving bit turning at 20,000 rpm. 625″ deep pocket in aluminum with a 1/8″ ball mill turning at 25,000 rpm. There are many examples that can use this setup for milling, routing and engraving wood, metal, plastic, and many other substrates. Note: color of mill-rout bracket may change depending on availability.
The item "Router Engraver for CNC Mill Quill Bridgeport Tormach Jet Proto Track Hurco Boss" is in sale since Monday, December 16, 2013. This item is in the category "Business & Industrial\Manufacturing & Metalworking\Metalworking Tooling\Equipment Specific Tooling\Milling".
The seller is "steam*stuff" and is located in Barrington, New Hampshire. This item can only be shipped Worldwide.
Country of Manufacture: United States
Brand: Mill-Rout
Model: BP=DW