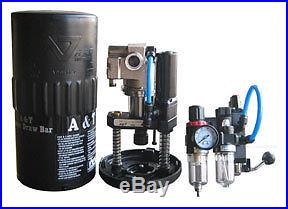 The aussie universal power draw bar. Refererences can be provided upon request………..
The adb-123 aussie drawbar was ergonomically designed to offer maximum productivity for ease of operation. Super easy——installation, with fast bolt on/off feature for bridgep0rt mills or bridgeport copy mills. Features, excellent craftsmanship and longterm durability, at a very reasonable price!! List price only $595.00 usd…………… As a true sign of commitment to our long term resolution to past, present and future customers….
Our company wide motto is 100 % % belief in this world class product, one that offers much much more than the standard quality units now in the market….. Take note that- the adb-123 power drawbar includes this very special patented feature. "universal mounting flange feature" that adapts to most taiwanese-chinese-usa made & foreign bridgeport style mills r-8, nt30 and nt40 spindle taper models (with minimum effort or installation time, only a matter of minutes). Support via our toll free number (800-575-2843 is available to you at all times). World class top quality impact wrench….. Unique adjustable drawbar feature enables the operator to pre-set the length of your existing draw bar use your factory original drawbar & save $$. You do not need a special drawbar- like the kurt unit. Only a 10 minute simple and easy installation on all vari speed mills. Step pulley heads and many cnc milling machines as well… Requires only 90 psi of compressed air to operate. The adb-123 series aussie drawbar is fully enclosed to protect the entire assembly from harm…. Save time , increase productivity and cut operator machinists average 10-15 manual changes per day at 1.7 minutes per collet change !!!!!!!!!! The adb-123 drawbar collet release time is " 3 " seconds. Call toll free (800)575-2843 directly for direct technical & sales support.. We were the very very first importers and pioneers of this very unique, versatile, and value added mill accessory. Contact the first original and longest importer of the aussie-adb-123 pwer drawbar. The company mission/ goal is to offer the very best -product-before and after service support to all. For an additional description of the item in this listing. To ask us questions about the item in this listing.
Replacements parts available for this model & adb-200 series. Great deals on- used – consigned – factory demo machines – tooling – accessories and replacement. Select a thumbnail from the left to zoom. Please check out my feedbacks.

The item "Air Power Drawbar MILL Bridgeport-Kurt-Maxi Torque A&T" is in sale since Monday, December 10, 2012. This item is in the category "Business & Industrial\Manufacturing & Metalworking\Metalworking Tooling\Equipment Specific Tooling\Milling". The seller is "machinery4less" and is located in Huntington Beach, California. This item can only be shipped Worldwide.
Model: ADB-123
Brand: Aussie Power Drawbar
BRIDGEPORT-LAGUN SHARP-JET-: MILLING MACHINE ACCESSORIES COLLETS
DRAWBAR R-8 NT 30 NT40 TAPER: DRAWBARS R-8 NT 30 NT40 TAPER